---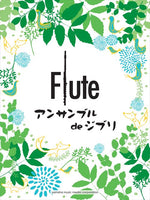 This product is a print version; a PDF version is not available.
There is a limit to the number of times this product can be ordered from the publisher (YAMAHA). Therefore, we will place an order with the publisher (YAMAHA) once a month, around the 15th-17th of each month.
This is a collection of 23 popular songs from Studio Ghibli's works, arranged for a duet, trio, and quartet. The arrangements are considerably flexible, allowing the trio to play as a duet and the quartet as a trio. Please refer to the guide in the score if full members are not available. Many of the pieces are arranged for beginners, so they can be enjoyed by anyone who has just picked up an instrument.
?笛的二重奏、三重奏、四重奏??,来自14部吉卜力工作室?影的23首歌曲。1. Nausicaa of the Valley of the Wind - Opening Theme-; 2. Carrying You; 3. Doves and the Boy; 4. My Neighbor Totoro; 5. Hey Let's Go; 6. Cat Bus; 7. The Path of the Wind; 8. A Town with an Ocean View; 9. Starting the Job; 10. On a Clear Day; 11. Le Temps des cerises(The Time of Cherries); 12. The Theme of Marco and Gina; 13. Princess Mononoke Medley; 14. Always with Me; 15. Reprise; 16. Day of the River; 17. Merry-Go-Round of Life; 18. Therru's Song; 19. Ponyo on the Cliff by the Sea; 20. Arrietty's Song; 21. Summer of Farewells - From Up on Poppy Hill; 22. Hikoki-Gumo(Contrail); 23. When I Remember This Life
1. ?之谷〜片?曲; 2. 伴随着?; 3. ?子与少年; 4. ?家的?猫; 5. 散?; 6. 猫巴士; 7. ?之甬道; 8. 看得?海的街道; 9. 第一?工作; 10. 晴朗的那一日…; 11. ?桃成熟?; 12. ?可和吉娜的主?音?; 13. 幽?公主?曲; 14. 永?常在; 15. 再度; 16. 那天的河川; 17. 人生的旋?木?; 18. 瑟?之歌; 19. ?崖上的金??; 20. 阿莉埃蒂之歌; 21. ??之夏〜虞美人盛?的山坡〜; 22. ?机云; 24. 生命的??