---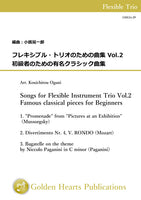 Score and Parts(PDF)
*This item is a PDF download. Due to the cart system, you will be asked to enter your shipping address during checkout, but it will not be delivered. A link to download will be provided on the screen after payment is completed or in an email sent later. The download limit is 2 times.
Songs for Flexible Instrument Trio Vol.2 - Famous classical pieces for Beginners
composed by V.A.
arranged by Kouichirou Oguni

Duration:--
1. "Promenade" from "Pictures at an Exhibition" / Modest Petrovich Mussorgsky
2. Divertimento Nr. 4, V. RONDO / Wolfgang Amadeus Mozart
3. Bagatelle on the theme by Niccolo Paganini in C minor / Niccolo Paganini

Publisher:Golden Hearts Publications(ONSA)

Printing Material:color fine paper

Program notes:

Remarks on Play:
Notation of sound range is on basis of;
Part. I Bb Cornet, Part. II Eb Tenor Horn (Eb Alto Horn), Part. III Trombone (B.C.)
According to your instrument, you may play 1 octave higher or lower from notation.
(Kouichirou Oguni)

Printed version is also available.

from Golden Hearts Publications:
Following "Flexible Duo," a collection of pieces designed to provide a repertoire that can be enjoyed by bands with only two members, "Flexible Trio" is designed for bands with three members. But of course, the score can be played by any band from junior high school onward, or by anyone other than bands. We hope that many people will enjoy it in a variety of situations, from practice to commissioned performances and weddings.

Reference music:

Instrumentation:
Part. I
C Instrument, Bb Instrument, Eb Instrument, F Instrument 
Part. II
C Instrument, Bb Instrument, Eb Instrument, F Instrument, Bass Clef
Part. III
Bb Instrument, Eb Instrument, F Instrument, Bass Clef