---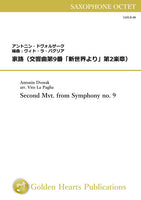 Score and Parts (PDF)

*This item is a PDF download. Due to the cart system, you will be asked to enter your shipping address during checkout, but it will not be delivered. A link to download will be provided on the screen after payment is completed or in an email sent later. The download limit is 2 times.

Second Mvt. from Symphony no. 9
Composed by Antonin Dvorak

Arranged by Vito La Paglia
 
Duration:10'30"

Publisher:Golden Hearts Publications(ONSA)

Printed version is also available.
https://global.goldenheartspublications.com/products/ghlb-08


Italian saxophonist Vito La Paglia has arranged the second movement of Dvorak's Symphony No. 9 "from the New World" , also known as "Goin' Home", for saxophone octet. An optional bass saxophone can also be added to make it a septet.


Reference music:


Instrumentation:
Soprano Saxophone 1
Soprano Saxophone 2
Alto Saxophone 1
Alto Saxophone 2
Tenor Saxophone 1
Tenor Saxophone 2
Baritone Saxophone 1
Baritone Saxophone 2
Bass Saxophone (opt.)