---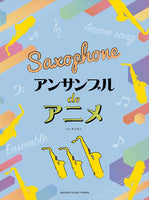 This product is a print version; a PDF version is not available.


There is a limit to the number of times this product can be ordered from the publisher (YAMAHA). Therefore, we will place an order with the publisher (YAMAHA) once a month, around the 15th-17th of each month.

This is a collection of 20 popular theme songs from Japanese anime, such as "Neon Genesis Evangelion," "Space Battleship Yamato," "Galaxy Express 999," and "Mobile Suit Gundam," arranged for a duet, trio, and quartet. The arrangements are considerably flexible, allowing the trio to play as a duet and the quartet as a trio. The standard trio arrangement is written for 3(or 2) alto saxophones and 3(or 2) tenor saxophones, but this arrangement is also suitable for 2 alto saxophones and 1 tenor saxophone. Please refer to the guide in the score. The quartet can also be played on 2 alto saxophones and 1 tenor saxophone. Many of the pieces are arranged for beginners, so they can be enjoyed by anyone who has just picked up an instrument.

1. Theme of Lupin the III; 2. A Cruel Angel's Thesis; 3. Detective Conan Main Theme; 4. Zen zen zen se;5. Full power BatanQ; 6. Lion; 7. Make My Dream Come Ture, Doraemon; 8. Secret base - What You've Given -; 9. We Are!; 10. Moonlight Legend; 11. Dancing Ponpokorin; 12. CHA-LA HEAD-CHA-LA; 13. The Space Battleship Yamato; 14. Galaxy Express 999 Medley; 15. My first Kiss; 16. Touch; 17. Courage 100%; 18. Fly! GUMDOM; 19. GeGeGe no Kitaro; 20. Lucky Humans