---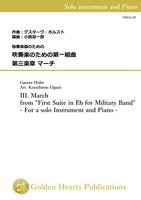 Score and part(PDF)

*This item is a PDF download. Due to the cart system, you will be asked to enter your shipping address during checkout, but it will not be delivered. A link to download will be provided on the screen after payment is completed or in an email sent later. The download limit is 2 times.
III. March from "First Suite in Eb for Military Band"- For a solo Instrument and Piano -
composer : Gustav Holst
arranged by Kouichirou Oguni

Duration:3'00"

Publisher:Golden Hearts Publications(ONSA)

Printing Material:color fine paper
Printed version is also available.
https://global.goldenheartspublications.com/products/ghoa-25

Program notes:

This work is an arrangement of 3rd movement from "First Suite in Eb for Military Band" by Gustav Holst (1874~1934).

In 2021, because of COVID-19 which continues from 2020, many people are still in difficulty on resumption of musical activity, especially on getting together with fellows. I discussed with Mr. Shuhei Umemoto, a representative of ONSA, "We'll need some works for solo style, and people can enjoy the sound of Wind Orchestra". At that time, works by Holst were in the list.

I especially hope that people who are in difficulty on resumption of musical activity enjoy this work.

Remarks on play:
Solo:
You can change the sound range 1 octave lower or higher, according to your technique. From bar 123~153, you can play [solo I] or [solo II] which you like.
 [foot stamping] should be like ad-lib. Or, you can play some notes by your instrument. On Mallets, articulations of roll are put, but you can put rolls on other positions on this work.

Accompanist:
You'll need a page turner. If it is difficult, you can copy the score only for page turn.

(Kouichirou Oguni)

Instrumentation (Sales Type)
1. Flute or Piccolo
2. Oboe
3. Eb Clarinet
4. Bb Clarinet
5. Eb Alto Clarinet
6. Bb Bass Clarinet
7. Bassoon
8. Bb Soprano or Tenor Saxophone
9. Eb Alto or Baritone Saxophone
10. Bb Trumpet, Cornet, or Flugelhorn
11. F Horn
12. Trombone, Bass Trombone, or Euphonium
13. Tuba
14. Contrabass
15. Mallets
[ World Parts ]
16. Bb Baritone, Trombone, or Euphonium (T.C.)
17. Eb Horn
18. Bb Tuba (T.C.)


Reference music:
Reference music(Accompaniment only):