---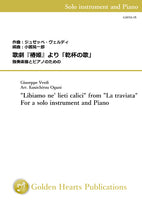 Score and Parts(PDF)
*This item is a PDF download. Due to the cart system, you will be asked to enter your shipping address during checkout, but it will not be delivered. A link to download will be provided on the screen after payment is completed or in an email sent later. The download limit is 2 times.

"Libiamo ne' lieti calici" from "La traviata" - For a solo instrument and Piano -
composer : Giuseppe Verdi
arranged by Kouichirou Oguni

Duration:3'20"

Publisher:Golden Hearts Publications(ONSA)

Printed version is also available.
https://global.goldenheartspublications.com/products/ghoa-15

Program notes:

This work is "Libiamo ne' lieti calici" from Opera "La Traviata" by Giuseppe Verdi (1813~1901). I guess this piece is the most famous piece from "La traviata", and fashionable society in France of 19th century is well described.  
Originally, this piece is for Duo by Violetta and Alfred. For this work, I transcribed to solo and accompaniment piano.
I made "For a solo instrument and Piano" series so that all players (any instruments) can play and enjoy the classical famous melodies, casually. Some instruments may have seldom opportunities of solo, but I presume you can enjoy the playing of this piece.

Remarks on play:
Breath marks on a solo instrument are according to the original lyrics of "Libiamo ne' lieti calici". You don't always need take breathes, but I think they'll be a hint for play (of course, you can take breathes on them).
Others;
・Both solo and accompaniment: Grace notes can be omitted if they are hard to play.
・At the Finale of the piece, you can play higher notes or lower notes as you like. For your reference,
Higher notes: Violetta, Lower notes: Alfred.
(Kouichirou Oguni)




Instrumentations
solo instrument and Piano


Reference music: