---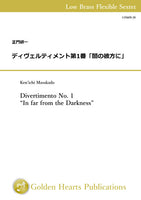 Score and Parts
Divertimento No. 1 "In far from the Darkness"
Composed by Ken'ichi Masakado (正門研一)
 
Duration:11'50"
1st movement: Prologue (approx. 1'30")
2nd movement: Fanfare (approx. 1'10")
3rd movement: Rondo - Scherzo (approx. 2'50")
4th movement: "In far from the Darkness" (approx. 2'30")
5th movement: Epilogue (approx. 3'35")

Publisher:Golden Hearts Publications(ONSA)

Printing Material:Color fine paper

Program notes:

The original Trombone Sextet was published in 2005. In the course of its revision and publication, it has been adapted so that it can be performed by Low Brass instruments other than Trombone.
Although some of the movements of this piece are titled to evoke a specific story, they do not have a concrete story. However, it may depict the 'darkness of the heart' that we all have, and the 'struggles' that we all face. This is evident in the use of the title 'Divertimento', the title of a bright and joyful song that everyone imagines (in fact, it could be said to reflect the composer's own inner darkness and struggles).
The unstable and sometimes violent rhythms, the dissonance and the unresolved ending stand out amongst the pieces I have created so far. However, the structure of the piece, with its mix of gentle and harsh melodies and polyphonic developments, is common to the other pieces.
The first movement, "Prologue", has a light but melancholy mood. The second movement, "Fanfare", is dominated by unstable rhythms and dissonances, and has nothing to do with brilliance or splendour. The third movement, "Rondo ? Scherzo", has as its core a rhythmic theme in harmony with stacked four-degree intervals. The fourth movement, "In far from the Darkness", is a slow movement that makes you think that you may have found a ray of light. The final movement, "Epilogue", recapitulates the themes of the other movements and closes energetically.
-----------
The composer envisages the following instruments for each of the six parts (no particular combination of instruments is restricted)
Part 1: Trombone/Baritone/Euphonium
Part 2: Trombone/Baritone/Euphonium
Part 3: Trombone/Euphonium
Part 4: Trombone/Euphonium
Part 5: Bass Trombone/Tuba
Part 6: Bass Trombone/Tuba
(Ken'ichi Masakado)

Reference music:

*The instrumentation of this reference source is as follows
Part 1-4 Tenor trombone
Part 5-6 Bass Trombone




*The instrumentation of this reference source is as follows
Part 1-4 Euphonium
Part 5-6 Tuba



*The instrumentation of this reference source is as follows
Part 1-2 Tenor trombone
Part 3-4 Euphonium
Part 5 Bass trombone
Part 6 Tuba


Instrumentation:
Low Brass (Part 1-6)