---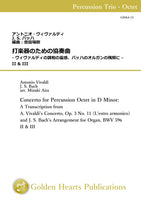 Score and Parts

Composed by A. Vivaldi , J.S. Bach
Arranged by Mizuki Aita (會田瑞樹)
 
Duration:5'00"

Publisher:Golden Hearts Publications(ONSA)

Printing Material:Color fine paper
Program notes:

Published in Amsterdam in 1711, L'estro Armonico is a work that confirmed Vivaldi's fame. From 1708 to 1717, Bach in the Weimar era also obtained this score and arranged it as "Organ Concerto BWV596".
Before he aspired to be a percussion instrument, he was shocked when he encountered the first movement of this work through the violin. At that time, the lessons of Professor Terui Seiko that she took became the basis of my music after that.
A few months later, I was forced to make a life decision. An invitation to "Would you like to study percussion instruments in earnest?" It meant a farewell to the violin. Dr. Terui was quick to realize that he couldn't get into the violin, and one day he was strongly rebuked. "It is not allowed to appear in the concert as it is." The songs that were being practiced at that time were the second and third movements that were arranged this time. The second movement, which sings the Siciliana-style mourning, centered on the vibraphone, and repeated the unstable feelings of oneself at that time. I decided to give the subtitle "To the Devil of Rhythm" in the third movement. No matter how much I played the violin, the "rhythm" echoed in the back of my ears like this. Then I finished playing this song and became obsessed with the rhythmic devil.
The premiere is August 11, 2022 at the Museum of Kyoto. Dedicated to the ensemble SAI-SAI.
(Mizuki Aita)

Instrumentation (8 players in maximum)
1 Vibraphone, 2 Marimba (5 octaves),
Percussions (Metal, Wood, and Leather, freely chosen by players)

Instrumentation (3 players in minimum)
1 Vibraphone and 2 Marimba (4 octaves)
*Use Marimba Part score, I-a and II-b

Flexible Instrumentation (Example)
1 Vibraphone, 1 Marimba (5 octaves), 1 Marimba (4 octaves)
* Use Marimba Part score, I-a and II-a, b, and add percussions

About Percussions:
Part scores show only relative pitches. From Metal (ex. Cymbals, Triangle, Tam-tam, sheet of steel, etc.,), Wood (ex. Wood Blocks, a piece of wood, Wood Chimes, Temple Block, etc.,), and Leather (ex. Bass Drum, Snare Drum, Tom-tom, etc.,), you can use any percussions. Also, the ways of playing percussions (ex. by sticks, bows of strings, fingers, etc.,) will be adjusted according to ensemble balance, improvisationally.

PDF download is also available for this work.
https://global.goldenheartspublications.com/products/ghaa-13-pdf

Reference music:



Instrumentation (Parts included in the set):
Vibraphone
Marimba I-a
Marimba I-b
Marimba II-a
Marimba II-b
Perc. 1
Perc. 2
Perc. 3