---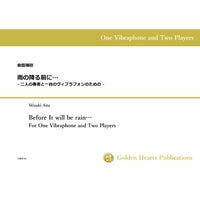 Book (PDF)
*This item is a PDF download. Due to the cart system, you will be asked to enter your shipping address during checkout, but it will not be delivered. A link to download will be provided on the screen after payment is completed or in an email sent later. The download limit is 2 times.
Composed by Mizuki Aita (會田瑞樹)
 
Duration:7'00"

Publisher:Golden Hearts Publications(ONSA)

Printing Material:Color fine paper
World Premiere :
14th August, 2021, at the "Museum of Kyoto", an annex hall.
Vibraphone: Kanna Taniguchi, Mizuki Aita


Program notes:

A small prelude to Toru Takemitsu's "Rain Tree".

(Mizuki Aita)
Printed version is also available.
https://global.goldenheartspublications.com/products/ghaa-04

Reference music:


Instrumentation:
Vibraphone (F-F)

Mallets specifications:

Player I:
Super hard mallets (Like Xylophone mallets)
Soft-mid mallets
Pet bottles (2)
Chain
Two bows

Player II:
Super soft mallets (like Timpani mallets)
Soft-mid mallets
Wood brush
Rubber mallet
Wire brush
Pet bottle (1)

*[Player I: Higher Voice, Player II: Lower Voice] is preferable.