---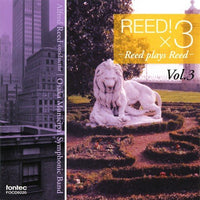 ■Original or Foreign Title:Reed!×3 Vol.3

■Conductor:Alfred Reed

■Player: Osaka Municipal Symphonic Band

■Label: Fontec

■Release year:2005

■Delivery date:Received in our store in about 3 to 5 business days

■Song List:

All written by Alfred Reed

1. El Camino Real

2 Bagatelles
2. No. 1. Cantado
3. No. 2. Scherzando

Symphony No. 3
4. I. Pesante e molto sostenuto
5. II. Variations on the Porazzi Theme of Wagner
6. III. Allegro Deciso

Suite No. 6
7. I. March Miniature
8. II. Summer Strolls
9. III. Halloween Hobgoblin
10. IV. Awa Odori (Japanese Dance)

11. Praise Jerusalem!