---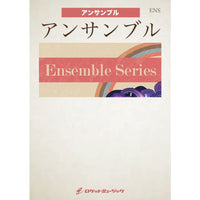 This product is a print version; a PDF version is not available.
Original or English Title:A Story in the Royal Palace
Composer: Mari Miura
Duration : 10'00"
Difficulty : 4
Publisher : Rocket Music
Delivery date : Received in our store in about 3-5 business days
You Tube
Program notes :
This work was composed with the image of "A Royal Palace Day". A party is held to choose a marriage partner for the princess of the kingdom. It is a story until the prince is chosen.
The era of the story is not set. I hope the musicians can freely imagine and play wonderfully. (Miura Mari)
Instrumentation:
[Chor I]
Bb Trumpet 1
F Horn 1 (or Bb Trumpet 3)
Trombone 1
Euphonium 1
[Chor II]
Trumpet 2
F Horn 2
Trombone 2 (or Euphonium 2 )
Tuba