---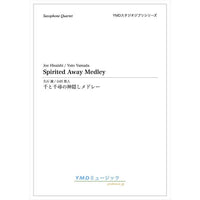 *This product is a print version; a PDF version is not available.

Title:Spirited Away Medley

Composer:Joe Hisaishi, Yumi Kimura
Arranger:Yuto Yamada

Duration:6'30"

Difficulty:4

Publisher:YMD music

Delivery date:Received in our store in about 3-7 business days

You Tube



From the publisher:
Studio Ghibli production director Hayao Miyazaki's feature animated film "Spirited Away", which was released in 2001, is a worldwide hit with over 30 billion yen for box office and winning various awards. This is a story about a 10-year-old girl Chihiro who strays into the world of gods and struggles. This work consists of <to that summer> <boiler insect> <dragon boy> <again> <always>. <Dragon Boy> requires breath tone. Please play while thinking of the world of the movie.

Instrumentation:
S.Sax. / A.Sax. / T.Sax. / Bar.Sax.