---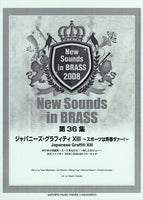 This product is a print version; a PDF version is not available.
There is a limit to the number of times this product can be ordered from the publisher (YAMAHA). Therefore, we will place an order with the publisher (YAMAHA) once a month, around the 15th-17th of each month.
New Sounds in Concert Band Series(NSB). 5 melodies from Japanese animationds. In these programs, the main characters were grwon up through sports; baseball, Tennis, Boxing and Professional wreastling
Duration: approx.6'35"
Arranged by Takashi HoshideMedley of:
Go! Go! Hyuma; Aim for the ace!; Tomorrow's Joe; NOKI BOM-BA-YE; Touch
?曲:
冲?冲??雄?馬; 网球甜心! ; 明日之丈; 火??士; 棒球英豪