---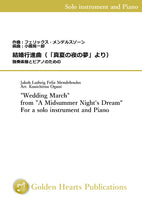 Score and Parts(PDF)
*This item is a PDF download. Due to the cart system, you will be asked to enter your shipping address during checkout, but it will not be delivered. A link to download will be provided on the screen after payment is completed or in an email sent later. The download limit is 2 times.
"Wedding March" from "A Midsummer Night's Dream" For a solo instrument and Piano
composer : Jakob Ludwig Felix Mendelssohn
arranged by Kouichirou Oguni

Duration:2'00"

Publisher:Golden Hearts Publications(ONSA)

Program notes:

This work is "Wedding March" by Felix Mendelssohn (1809~1847), for a solo instrument and Piano accompaniment.
All instrumentations are in C major, and Piano accompaniment is same. This is because I would like to lighten the Piano player's accompaniment.

I made this work so that all players (any instruments) can play and enjoy the classical famous melodies, casually. Some instruments may have seldom opportunities of solo, but I presume you can enjoy the playing of this work.

Remarks on play:
Breath marks in parentheses are hints on play. You can choose any places of breath, according to your decision. Although "f" and "ff" are the base of this work, rough performance is not preferable. Please enjoy the ensemble with Piano.

(Kouichirou Oguni)

■from Golden Hearts Publications:
It can be used in various situations such as beginners who have just started playing musical instruments, daily training, entertainment at weddings and requested performances. It is good to practice with their seniors so that new students do not get bored with basic training. When used in school lessons, all sets are advantageous. Individuals are encouraged to purchase individual instruments individually. There are some high ranges that are difficult for beginners, so if you use it for beginner practice, you may lower the octave as appropriate.
Printed version is also available.
https://global.goldenheartspublications.com/products/ghoa-02-indiv

Reference music: