---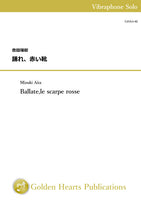 Book
Ballate,le scarpe rosse
For Vibraphone Solo

Composed by Mizuki Aita (會田瑞樹)
 
Duration:7'00"

Publisher:Golden Hearts Publications(ONSA)

Printing Material:Color fine paper
World Premiere :
March 21, 2021 Sapporo Toyohira-kan
Haruchika Sato Vibraphone Solo Recital

Program notes:

At the end of 2017, I was contacted by Kenichi Watanabe, a professor at Hokkaido University of Education, who said he had a student he wanted me to give lessons to. I was skeptical, but the following year, Haruchika Sato came to Tokyo to meet me.

The next year, Haruchika Sato came to Tokyo. "My lessons are just a starting point, and since you're coming to Tokyo, I want you to use me as an excuse to go to museums, concerts, meet lots of people, and deepen your knowledge." I think that was the first thing I told him. I think I told him that at the beginning. True to my words, he met a variety of people in Tokyo and sometimes went to Italy to deepen his knowledge. He has grown much stronger than me.

When I heard that Mr. Sato was going to give a vibraphone solo recital, I wanted to write a piece to celebrate the occasion and to sublimate my own experience of playing the vibraphone.

The seven themes of this piece are as follows

The "Red Shoes" composed by Nagayo Motoi.

Andersen's fairy tale "The Red Shoes".

A. Vivaldi's "La Folia op.1".

Takahiro Nakamura's book "Yokohama Merry: Where have all the white-coated old prostitutes gone?"

The Possibility of the 2 mallets.

The endless appeal of the vibraphone instrument.

Haruchika Sato's red shoes start dancing.

This composition was just another opportunity. I am confident that Haruchika Sato will create a performance that far exceeds my imagination.

I would like to dedicate this work to Mr. Haruchika Sato.

(Mizuki Aita)
PDF download is also available for this work.
https://global.goldenheartspublications.com/products/ghaa-03-pdf

Reference music:


Instrumentation:
Vibraphone