---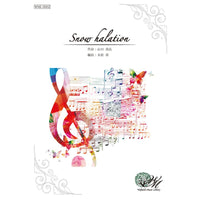 This product is a print version; a PDF version is not available.
Title:Snow Halation
Composer:Takahiro Yamada
Arranger :Louis Kihara
Duration:4:40
Publisher:YOTTA Factory Inc.
Received in our store in about 3-10 business days
From the Publisher:

This is a hit song from "Love Live!"

For the convenience of playing with wind instruments, some reharmonization is given. Although it is a song with a fast tempo, be careful with the tone and play it with a steady change in volume.

Ob (E.Hrn.) / Bsn./Eb Cla./A.Cla./Hrn.4/Perc.3/Chime can be omitted.
Instrumentation:

Piccolo
Flutes 1,2
Oboe(English Horn)
Bassoon
Eb Clarinet
Bb Clarinet 1
Bb Clarinet 2
Bb Clarinet 3
Eb Alto Clarinet
Bb Bass Clarinet
Eb Alto Saxophone 1
Eb Alto Saxophone 2
Bb Tenor Saxophone
Eb Baritone Saxophone
F Horns 1&2
F Horns 3&4
Bb Trumpet 1
Bb Trumpet 2
Bb Trumpet 3
Trombone 1
Trombone 2
Bass Trombone
Euphonium
Bass in C
Erectric Bass
Drums
Timpani(Optional)
Percussions 1 -Sleigh Bells & Tambourine
Percussions 2 - Suspended Cymbal, Wind Chimes & Cowbell
Percussions 3 - Congas, Bongos & Cabasa
Chimes
Vibraphone
Glockenspiel