---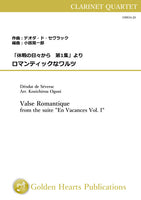 Score and Parts(PDF)
*This item is a PDF download. Due to the cart system, you will be asked to enter your shipping address during checkout, but it will not be delivered. A link to download will be provided on the screen after payment is completed or in an email sent later. The download limit is 2 times.
Valse Romantique (from the suite "En Vacances Vol. I")
Composed by Deodat de Severac
Arranged by Kouichirou Oguni

Duration:3'20"

Publisher:Golden Hearts Publications(ONSA)

Program Note:
Déodat de Séverac (1872~1921) was a composer in France who especially created works on basis of Languedoc. Languedoc was his homeland.
Claude Debussy, who was also in France and lived in the same period, expressed the works by Séverac, "His music smells good."
This work, "Valse Romatique", is from the suite "En vacances Vol. I"
Séverac may not be a popular composer, but, it'll be worth thinking that thanks to those composers and their works, we can enjoy the present music.
(Kouichirou Oguni)
Printed version is also available.
https://global.goldenheartspublications.com/products/ghoa-23

Reference music :
Instrumentation:

Bb Clarinet 1st
Bb Clarinet 2nd
Bb Clarinet 3rd
Bb Bass Clarinet