---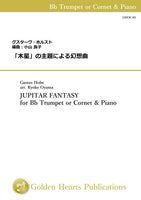 Score and Parts (PDF)

*This item is a PDF download. Due to the cart system, you will be asked to enter your shipping address during checkout, but it will not be delivered. A link to download will be provided on the screen after payment is completed or in an email sent later. The download limit is 2 times.
JUPITAR FANTASY for Bb Trumpet or Cornet & Piano
Composed by Gustav Holst
Arranged by Ryoko Oyama
 
Duration:6'30"

Publisher:Golden Hearts Publications(ONSA)

Printed version is also available.

Program notes:

About the work
"Jupiter" is one of the most famous pieces from G. Holst's "The Planets" suite.
I was asked by a cornet player in Fukuoka, Japan, to compose a solo piece using the phrases from "Jupiter," which I composed (arranged) in 2017 and revised for B-flat trumpet and cornet.
The theme of Jupiter is scattered in places on both trumpet and piano. I hope you will enjoy playing this piece and enjoy their interaction with each other.

About playing
The piece opens with a trumpet solo. Play at any tempo.
Where the trumpet becomes the back melody, be careful not to exceed the volume of the piano.
The middle section transitions into a nostalgic phrase. Taste and play the tone of the cup mute.
After the cadenza, the piano begins in mp but always maintains tension and runs all the way to the Vivace.
After a classical and solemn phrase, the piece heads to a vigorous ending with an Allegro. For a moment, a shooting star flies overhead. Play through without slowing down.

Finally, I would like to express my gratitude to Yasuko Sakai for her great help in notating the piano score and accompanying the reference recording.

(Ryoko Oyama)



Reference music:


Instrumentation:
Trumpet in Bb or Cornet & Piano