---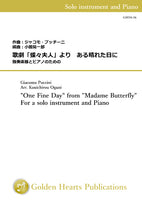 Score and Parts(PDF)
*This item is a PDF download. Due to the cart system, you will be asked to enter your shipping address during checkout, but it will not be delivered. A link to download will be provided on the screen after payment is completed or in an email sent later. The download limit is 2 times.
"One Fine Day" from "Madame Butterfly" - For a solo instrument and Piano -
composer : Giacomo Puccini
arranged by Kouichirou Oguni

Duration:4'00"

Publisher:Golden Hearts Publications(ONSA)

Printed version is also available.
https://global.goldenheartspublications.com/products/ghoa-16

Program notes:

This work is "One Fine Day" from Opera "Madame Butterfly" by Giacomo Puccini (1858~1924). I guess "Madame Butterfly" is one of the most popular operas by Puccini, like "Tosca", and "Turandot".
I made "For a solo instrument and Piano" series so that all players (any instruments) can play and enjoy the classical famous melodies, casually. Some instruments may have seldom opportunities of solo, but I presume you can enjoy the playing of this piece.
Rhythm is a little bit hard to play, and some instruments have high notes, so I guess it's a difficult piece. However, I expect the performance which we can image "fragility" of "Madame Butterfly", not only technical aspect.

Remarks on play:
Breath marks on a solo instrument by [,] are according to the original lyrics of "One Fine Day", and by [v] are originally put on original score. For [,] Breath mark, you don't always need take breathes, but I think they'll be a hint for play (of course, you can take breathes on them, if you need).
(Kouichirou Oguni)


Instrumentations
solo instrument and Piano

Reference music: