---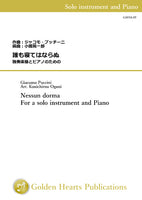 Score and Parts(PDF)
*This item is a PDF download. Due to the cart system, you will be asked to enter your shipping address during checkout, but it will not be delivered. A link to download will be provided on the screen after payment is completed or in an email sent later. The download limit is 2 times.
Nessun dorma - For a solo instrument and Piano -
composer : Giacomo Puccini
arranged by Kouichirou Oguni

Duration:2'00"

Publisher:Golden Hearts Publications(ONSA)

Program notes:

This work is "Nessun dorma" from Opera "Turandot" by Giacomo Puccini (1858~1924), for a solo instrument and Piano accompaniment. Contrabass solo is written for orchestra strings and usual turning.  
I made this work so that all players (any instruments) can play and enjoy the classical famous melodies, casually. Some instruments may have seldom opportunities of solo, but I presume you can enjoy the playing of this work.

For this arrangement, I asked my fellows who play each instrument about sound range and fingering, and thanks to their advices, I could bring this work completion. Again, I would like to appreciate them for their kind support for me.

Remarks on play:
・Breath marks on a solo instrument is according to the original lyrics of "Nessun dorma". For instance, on bar 13, you will notice the clear pronunciations without breath, when you listen to the original performance.
・Marks for changing tempo and dynamics are only general. Natural changes of dynamics and agogik should be added, according to melodies and progress of music.
(Kouichirou Oguni)

Instrumentations
solo instrument and Piano

Printed version is also available.
https://global.goldenheartspublications.com/products/ghoa-07

Reference music: