---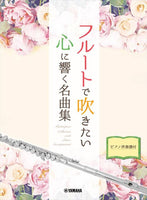 This product is a print version; a PDF version is not available.
There is a limit to the number of times this product can be ordered from the publisher (YAMAHA). Therefore, we will place an order with the publisher (YAMAHA) once a month, around the 15th-17th of each month.
20 arrangements from J-pop and melodies from classical repertoire for solo flute and piano. 1. Hana wa saku(The flowers bloom); 2. Pretender; 3. Yarn; 4. Himawari no Yakusoku; 5. Homura; 6. Song of Tanjiro; 7. Lemon Classical Tunes
8. O'Carolan: Water is Wide; 9. Amazing Grace; 10. Liszt: Liebestraum No.3; 11. Caccini: Ave Maria; 12. J.S. Bach: Arioso; 13. Handel: Lascia ch'io pianga; 14. Handel: Onbra mai fu; 15. Ravel: Pavane pour une infante defunte; 16. Chopin: Nocturne Op.9/2; 17. Mascagni: Intermezzon from "Cavalleria Rusticana"; 18. Faure: Apres un Reve; 19. J.S. Bach: Air on G String; 20. Holst: Jupiter from "The Planets"